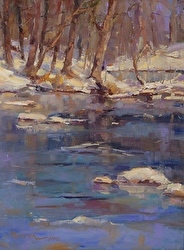 We've had a very mild winter, as I guess the rest of the country has too. So, very little snow. I tried to capture what little there is in the posted painting. Hope you enjoy.
---
---
---
3 Responses to Winter on the Battenkill
mike leblanc
via annlarsen.com10 months ago
Dear ann Larsen, I've looked and studied thousands, if not more than that painters.

some very good, all painters seem to win ribbons or awards whether they are first or not so first rate.

I looked a all your paintings and you are one of the most creative and strong image makers that ive seen. You are a true artist up with the best,
not putting in every detail, I like the way you paint down and bring up with the little touches at the end that don't really belong but do belong if you know what I mean. I never tire of your
design or color. I'm not the end all be all of whose good and who ain't but you are the strongest I've seen in a long time.
What a gift, thanks for showing m I AM mikeleblanc.